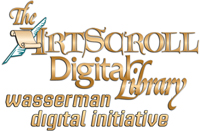 Here are a few tips for your brand new ArtScroll iPad!
Your iPad comes pre-loaded with all the digital content that we have available so far! This includes:
The Complete English Shas

The Hebrew Shas (in progress)

The Wasserman Digital Siddur Ashkenaz
Yes! You can also access this content on your existing devices! To do so, please reach out to Eli at 1800-MESORAH ext.447, or by sending him an email at appsupport@artscroll.com, and he will get you all set up!
Please browse through this website for tutorials on all the different features and settings of the app!