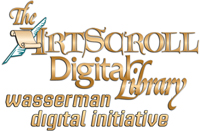 ArtScroll Digital Library Compatibility with iOS 13
We have been testing iOS 13, and have discovered that it is affecting the phrase-by-phrase navigation (highlight/translation popover) on the Vilna side of the page.
We have figured out what needs to be updated, and are working on getting an update released as soon as possible!
We will update everyone when it is fixed, and is ok to proceed with the iOS 13 update. Your patience and understanding are greatly appreciated!