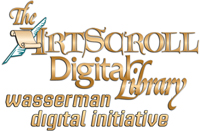 Digital Mishnayos Upgrade
If you have the Fully Loaded ArtScroll Digital Library iPad, you are now able to download the new Digital Mishnayos Elucidated!
Unfortunately, due to Apple limitations, this update will require a fresh install of the app and download of the content. *Note* You should not have to do this again in the future to get our app updates!
In order to do so, please follow the instructions below to update your app, and download your content:
If you still have the other stand-alone apps on your device (Red Siddur App, Green Tanach App) then you just need to delete the ArtScroll Digital Library app (Blue Icon) and re-download it fresh from the App Store.
Once you have re-downloaded the ArtScroll Digital Library App, open it up and navigate to Menu > Store. Then tap 'Yes' when prompted to restore previous purchases.
On the top right of the Store page you should see the 'My Volumes' link. Please tap on that link to view and download all your purchased content!