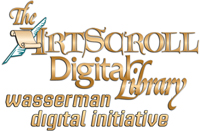 Please take a moment to register your iPad with us!
This will allow you to:
A) Access your entire Digital Library on your other devices
B) Link your purchased content to your account, so if lost, it can always be recovered

To do so, simply open the ArtScroll Digital Library App while connected to the internet.
Tap on Menu > Store > My ArtScroll Account.
Log in with your Artscroll.com email and password.


If you do not have an existing account, please visit our website at artscroll.com and create one today!

Thank you!

If you have any questions, please feel free to reach out to our App Support Team:
Phone: 1-800-637-6724 ext. 447
Email: appsuppport@artscroll.com