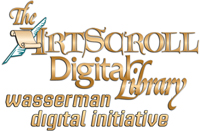 Here are a few tips for your brand new ArtScroll iPad!
Your iPad comes pre-loaded with all the digital content that we have available so far! This includes:

The Complete English Shas
The Complete Hebrew Shas
*NEW* The Edmond J. Safra Digital Chumashim! Available in Hebrew, English and French!
*NEW* The Mishnayos Elucidated!
The Wasserman Digital Siddur Ashkenaz
*NEW* The Kest Digital Siddur Sefard!
*NEW* The Lax Family Shaar HaBitachon!

The Jaffa Digital Tanach

much much more!
▶ If you are prompted to "UPGRADE" when trying to download any new digital volumes, please see: How to Upgrade My App?
▶ Can I access the content on my other devices? Yes!
Connect your Fully Loaded iPad to your ArtScroll.com account.
If you do not have an ArtScroll Account, you can create one at: artscroll.com/login
In the app, tap on Menu > Store > My ArtScroll Account and sign in with your email address and password
After that, do the same on your other device! Log in via Menu > Store > My ArtScroll Account
*NOTE – You will be asked to verify your account with your credit card on file. If you do not know which credit card is on file, or you do not have one on file yet, go to artscroll.com/mycards to look up or add a card.
Once signed in, tap the My Volumes link on the Store page, where you can download all your volumes
We encourage you to read our Quick-Start Guide to familiarize yourself with the basics of the app! You can view it here:
ArtScroll App Quick-Start Guide