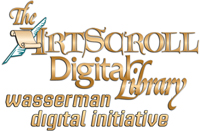 Purchase a Talmud Volume
Individual volumes of the Talmud can be bought in two ways, directly from Artscroll.com and through the Artscroll Digital Library's in-app Store page.
To purchase a volume via Artscroll.com:
Please visit the following link to see a full list of volumes and make your selection:

Artscroll.com Talmud Volumes

Tap on "Add to Cart", and then "Checkout"

You will then be prompted to sign in to your Artscroll.com account. If you do not have one, type in your email address, select "No, I am a new customer", and tap on "Sign in using Artscroll.com secure server"

You can now quickly create your Artscroll.com account by entering in your information, and tapping on "Submit"

Then enter in your payment information. You can pay by Credit Card or with an Artscroll Gift Certificate. Then tap "Next" to complete your purchase

Once you have completed your purchase on Artscroll.com, please follow the instructions in the following link to access your content:

Download/Installation Instructions
To make an in-app purchase via the Artscroll Digital Library's Store page:
If you are having any issues with your purchase, please feel free to contact us at appsupport@artscroll.com.